President Donald Trump signaled increasing U.S. alarm about the situation in northern Iraq after forces loyal to Baghdad seized the headquarters of Kirkuk's provincial administration on Monday, threatening to escalate tensions over Kurdish autonomy and pushing oil prices higher.
"We're not taking sides, but we don't like the fact that they're clashing," Trump told reporters at the White House Monday. "We've had, for many years, a very good relationship with the Kurds, as you know. And we've also been on the side of Iraq, even though we should have never been in there in the first place. But we're not taking sides in that battle."
On their way toward Kirkuk, the Iraqi army and its allied militias had taken oil fields, a refinery and military base from Kurdish control, according to state-run Iraqiya television. Some Kurdish fighters — known as the peshmerga — were reported to have withdrawn from their positions in coordination with the Iraqi troops, rather than defend them.
The flare-up follows a referendum last month in which Iraqi Kurds voted for independence, a move denounced by officials in Baghdad as well as in Turkey, Syria and Iran, which all have their own restive Kurdish populations. The Kurds, spread across those four countries, rank as the world's largest ethnic group without a state of their own.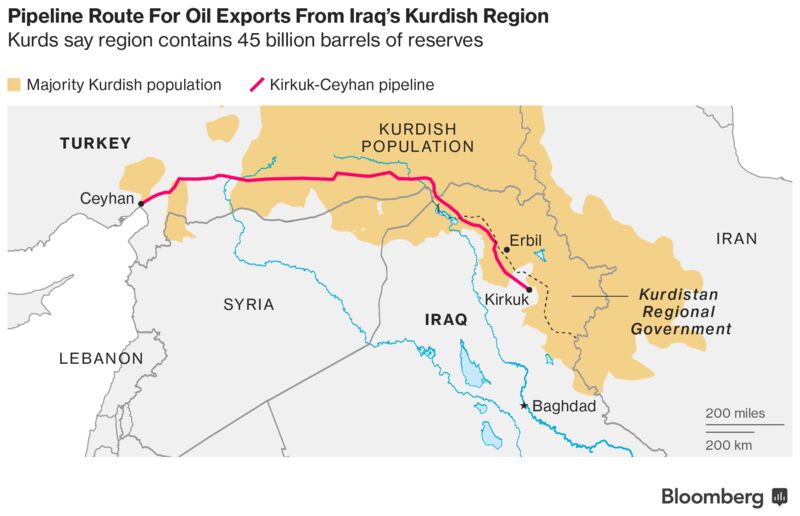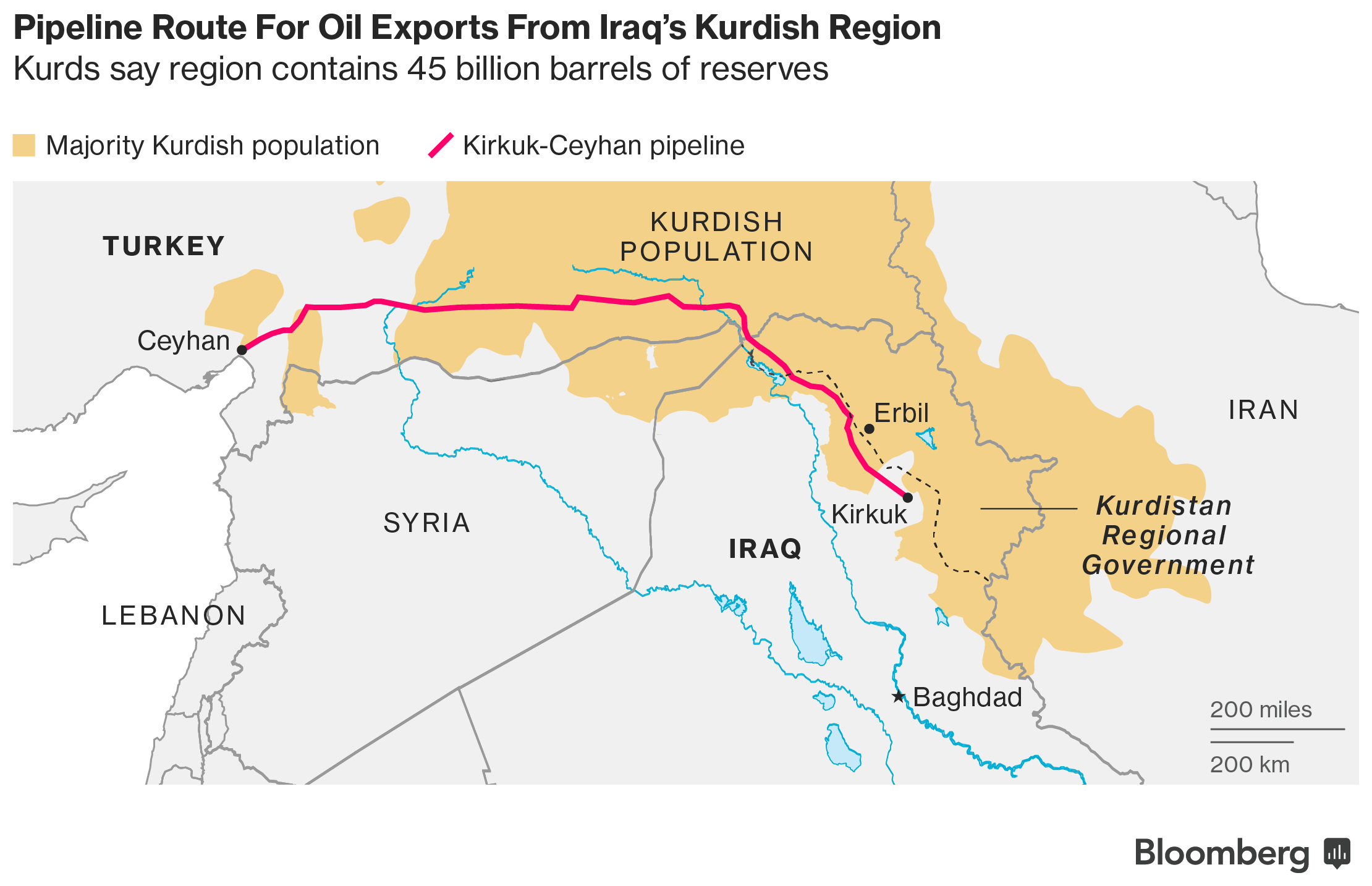 The U.S. has for decades supported Iraq's Kurds, first as a bulwark against dictator Saddam Hussein and then as a fighting force against Islamic State. But the toppling of Hussein by U.S. forces in 2003 also brought an alliance with successive governments in Baghdad, putting Washington in an increasingly difficult position as Iraqi forces finally moved to reclaim territory that the Kurds grabbed during Islamic State's initial onslaught in 2014.
Military Miscalculations
It's unclear how far Iraq's army and its militia partners intend to advance, but the importance of Kirkuk and the complexity of the armed alliances increase the "potential for political and military miscalculations," said Glen Ransom, Iraq analyst at Control Risks in Dubai. "The U.S. will try to de-escalate the situation to avoid compromising anti-Islamic State operations," he said. That could lead to agreements on Kurdish withdrawals from some areas and potentially joint administration, he added.
Earlier, Pentagon spokesman Robert Manning said the U.S. was against "destabilizing actions that distract from the fight against" Islamic State and "undermine" Iraq. "We continue to support a unified Iraq," Manning said.
Republican Senator Lindsey Graham warned that instability in northern Iraq would benefit Iran at the U.S.'s expense.
"We must act quickly and decisively to bring stability to Iraq recognizing that Iran seeks nothing more than to control its neighbors and foment unrest," Graham said in a statement.
The military offensive, which Iraqi Prime Minister Haider al-Abadi had vowed to avoid, follows three weeks of escalating tensions since the independence vote. On Monday, Turkey said it was shutting airspace for flights to and from the Kurdish region and would transfer control of a key border gate to authorities in Baghdad.
There were conflicting reports as the Iraqi campaign began late on Sunday. State television reported that Abadi had ordered Iraqi forces to impose security in Kirkuk in cooperation with Kurdish peshmerga forces, adding that government troops had taken over parts of the city without a fight. The Kurdish Rudaw news service said at least seven Iraqi militiamen were killed south of Kirkuk, citing an unidentified peshmerga commander, and Sumaria reported that a 12-hour curfew was imposed.
Kurdish Gains in Mideast Chaos Fuel Statehood Dream: QuickTake
Kurdish forces occupied much of Kirkuk province in June 2014 after Iraqi troops retreated from advancing Islamic State militants. Baghdad refuses to recognize Kurdish control of the area, which was included in the September vote even though it lies outside territory officially administered by the semi-autonomous Kurdish Regional Government.
The turmoil forced Kurdish officials to stop pumping two oil deposits in Kirkuk as technicians failed to report for work and some security guards left, according to an official at state-run North Oil Co., who didn't specify the amount of oil involved.
Regional Impact
Iraq is the second-largest producer within the Organization of Petroleum Exporting Countries, pumping most of its 4.47 million barrels a day from fields in the south and shipping it from the Persian Gulf port of Basra.
Kirkuk's oil fields and deposits inside the adjacent Kurdish region were exporting about 600,000 barrels a day through a Kurdish-controlled pipeline to Turkey, according to a person familiar with the matter, who asked not to be identified because the information is private.
Eurasia Group estimates that Iraq taking control in Kirkuk could cut shipments by 450,000 barrels daily until the federal government repairs its own disused pipeline to Turkey or reaches a revenue-sharing deal with the Kurds.
Underscoring the potential for a regional spillover, Abadi's office had late on Sunday accused the Kurds of deploying militants from the Turkish PKK organization, saying that was considered a declaration of war against Iraq.
The PKK has been battling for independence for Turkey's Kurds for more than three decades, and authorities in Ankara fear Kurdish gains in Iraq and neighboring Syria could fuel further violence at home.
"The war on ISIS is edging to an end and now the real war starts, the war between the regional powers in order to control resources and define their own areas of influence," said Sami Nader, head of the Levant Institute for Strategic Affairs in Beirut. What's happening in Kirkuk is not just a local Iraqi conflict but a regional race to establish new boundaries, he said.
— With assistance by Donna Abu-Nasr, Ladane Nasseri, Anthony Dipaola, Zaid Sabah, Justin Sink, and Steven T. Dennis